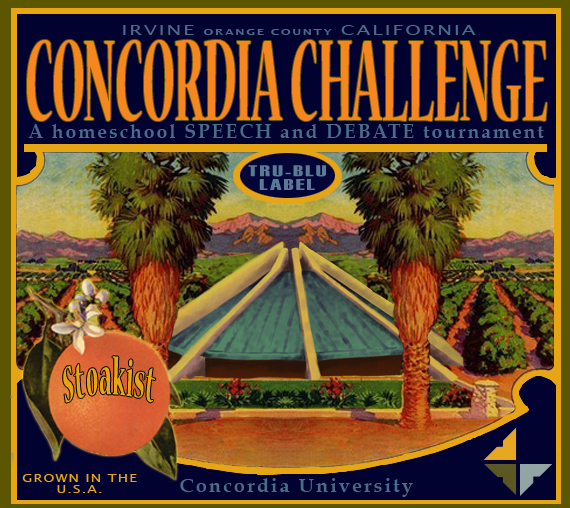 Welcome to the Concordia Challenge 2018!
March 7 - March 10, 2018
Hosted by the Concordia University Forensics Program and the incomparable Mr. Konrad Hack
Held at the lovely Concordia University campus, located at 1530 Concordia West, in Irvine, Orange County, California.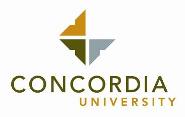 Registration Dates
Opens: 8:00AM on Monday, February 5
Closes: 11:59PM on Saturday, February 10
Stoa Membership
Students are required to be Stoa members to register for this tournament. Use this link to register.
Participants should view general Stoa rules prior to attending the tournament. They can be found at: http://www.stoausa.org
The Stoa NITOC Dress code will be enforced at the tournament. Dress code details can be found here. Avoid having your coach have to speak to you about things like hem length.
Entry Procedure
If more than one family registers on the same computer, make sure the previous family has been logged off.
When registering for the tournament, you must use exactly the same information you used when signing up for your Stoa membership.
Please click on the "Student Registration" tab above and complete all necessary steps. To add students to a family registration, click ADD STUDENT.
All families registering for the tournament are responsible for reading through all pages of the website. It is assumed that everyone registering for the tournament has read through and understands all of the information presented.
Check-In
Check-In opens Wednesday morning at 7:30 AM and is open until 9:30 AM at the Student Union Center patio on the Concordia Campus. For those only in Cold Reading on Wednesday, there will be a second check-in time from 11:30 AM to noon. Check-In then re-opens on Thursday from 7:15 AM to 9:30 AM. For those students in Pattern B, there will be a second check-in time on Thursday from 3:00 PM to 3:30 PM.
All LDers should check-in prior to 7:40 AM on Thursday so we know you are here and your first round will start on time. All TPers should be completely checked in by 8:30 AM for the same reasons.
If you are in Extemp, please read the Extemp information on the Extemp tab.
Electronic Script Submission/Debate Self-Timing
We love Electronic Script Submission! And so will you - it's been made even easier and will get you off to a great start before you even set foot on the campus. Be sure to open the tab labeled Script Submission for amazingly helpful links to script submission information, including details for electronic script submission. Just like NITOC, all script submissions will be done electronically at the Concordia Challenge.
All debaters need to be prepared to self-time their rounds. Please see the Debate Self-Timing Information tab for details.
Judging Responsibility
There will be a judge orientation prior to each competition round. Parents, it is important to go through an orientation if you haven't attended one this year. With two Wild Card events, it is highly recommended that all parents go through an orientation. Please try to attend one early on, especially if this is your students' first year of competition. If you have never attended the separate Apologetics orientation please see one of our friendly orientors prior to judging an Apologetics round.
Teams/Clubs will be responsible for judging a minimum of two rounds of Team Policy debate, two rounds for Parli debate and three rounds of Lincoln/Douglas debate for each student registered on their team.
Additionally, each Team/Club will be responsible for a minimum of one round of speech events per event for each registered student competing in speeches.
Our commitment: We are attempting to find as many community judges as we can from the Orange County area to adjudicate for the tournament. However, in order to allow the maximum number of entrants to participate, we are requesting that competitors provide judges for a minimal amount of rounds. Judges are considered non-participants who are 18 years or older and have graduated from high school. This usually includes parents, parents of other club members, former debaters and speakers who have moved on to college, or friends in the area. Alumni - See "Alumni" tab on the left for more info.
Please stop by the ballot push table, located in the Student Union Center patio, early to pick up a ballot. We recommend being there one hour prior to a round.
Limited Space
Since we have a limited number of rooms, we cannot accommodate competitors who are unable to stay for the entire tournament. Once the tournament is full, we will start a waiting list.
Contacts
If you have any non-registration questions regarding the Concordia Challenge, please send them to us, Craig Smith or Michelle Estrick, at drconcordiachallenge@gmail.com. We are here to serve you at this tournament!